Man!
-First off, it felt great to work my ass off for 6 straight days... and be well compensated

We sold over 2K tees. I'll try to post some pics (ours is not the one on the website... that logo was gay).
-The weather was mostly excellent (perfect, hot, rain, storms, back to perfect), and the people were top notch.
-REVELATION: It was probably the only place in America where 50K folks were together in America last week, without any fighting or theft. Mass harmony, community and fellowship were the highest I've seen in years.
Of course it's ironic, that they were simulating one of the deadliest battles on American soil.
So those of you who watch too much news and think we are at the end of days, take heart, humanity and America is NOT yet forsaken

The people were it, for me. Everybody was cool. I worked my t-shirt tent for 3 days at the registration point. The only States unrepresented that I'm sure I didn't see on a lisenceplate or personally speak with were, Alaska, Hawaii, Oregon, Nevada, and Connecticut. Everybody was friendly.
All smack was in good nature:
-There was a guy wearing this shirt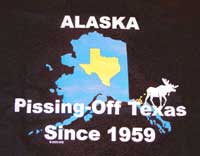 .
And I was like OMG! tell me you you didn't drive (5k+ miles) to here from Alaska?
Dude says, "no I'm from Maine... I just like to mess with Texas." LMAO
-There were some Guys from England there (to my front, I had already greeted them and told them what colors and sizes that I had left). I turned to my right to collect some money from an older (pushing 70) guy, he spoke in Colorado dialect, but you could hear the aged British speech from his youth... I pegged him as a grandad or uncle. The guy says, "You better watch those guys... I think they're England"
"Well, if they start any trouble I will just declare independence on them", I replied

At that point of the campaign, I was outnumbered and alone. There were no reinforcements and my mission was to sell shirts. So I needed to serve all 20-25 people waiting about the same... I really would have liked to have heard if they knew of PottingtonPark and their story, but time didn't allow it.
I sold over 700 shirts on Thursday, and did everything else, stocking folding sorting stashing cash... I'm a cig junkie and only smoked twice in 10 hours... there was that much work to be done. If I had a free moment on Thursday, I either needed to drink some water or do some work... no smoking, short bs.
In contrast to Wednesday, when my brother and I together sold ~ 300 shirts. And we could speak a few moments with everyone.
I have sore muscles that haven't said a word in 15 years or more. Who knew digging in your pocket 100x, and folding shirts could be so strenuous?
-A lady from SF told me that in all of her travels she's never seen such courtesy and was going to stop trashing rednecks with her friends.
As far as the actual reenactment, I saw 10-15 minutes of it at close range. Shortly after I arrived at the battlefield, the US army had cleared the CSA left... where most of the spectators were, and the observers left by the hundreds. So I needed to, get back on the road to selling more shirts.
About the reenactment. It was cool. It was my first, and they did well. The groups practice 19th century military drills and follow the lead of their commanders, and some actually act a little bit. Wounded people will try to crawl away or assist their brothers, commanders are calling orders. In addition to the 5K guys going at on the field, there was a lady pleading for the south to hold their line, and a big fat bearded guy yelling "Give 'em hell, Pennsylvania!"
It was neat. Heluva week